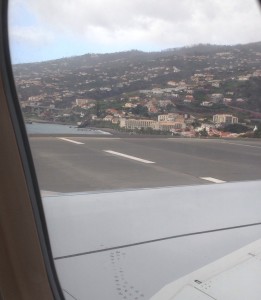 Madeira, Portugal. Little did I know that we were landing on one of the most dangerous runways in the world as our last stop on our around the world trip. Actually I am glad I didn't know until after we arrived in Madeira.
I learned over dinner in Madeira the first night, all 3 of our pilots had to receive special training just to land our plane on the single runway that is surrounded by the Atlantic Ocean on 3 sides (you can see the ocean at the end of the runway in the photo) and a mountain with thermal winds on the 4th side. Yikes! But our pilots executed a perfect landing.
So what are the other most dangerous places to land? Well according to The History Channel, Nepal is the number #1 with San Diego the 10th. Madeira is 9th with St Bart's and Hong Kong in the top 10. So I have landed at 2 of the most dangerous (San Diego and Madeira). I think I'll stop with that record!
Overall, I was amazed at how smooth all of our flights were on the trip. Not one scary moment except maybe the landing in Australia. It was an amazing experience, but I am glad to be home. And where is our plane going next? Whisking Prince Charles and Camilla off to India for a 9 day trip. I bet they won't be as fun as our group!