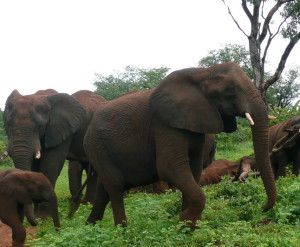 Africa. So what do a full moon and honey bees have in common? Elephants, of course. Really? Well they are both crop deterrents to elephants. As elephants and humans compete for scarce land and water resources, they come into conflict, sometimes with fatal results.
But recently researchers found elephants stay away from crops during a full moon leading them to speculate elephants understand there is a greater risk of detection by humans during a moon lit night.  Pretty smart elephants.
And it turns out, elephants are afraid of bees. And rightly so. Swarming bees sting elephants around their eyes, inside their trunks and pierce the skin of baby calves. So researchers erected a beehive fence with hives every 10 meters around field crops. The results were phenomenal with only one elephant breaking through the "fence" in a 2 year period.
Plus the farmers get the honey which provides much needed income. A real win, win if you ask me. And the idea came from Lucy King, a biologist with Save Our Elephants, who observed elephants avoiding trees with beehives. A simple idea which is making a huge difference in the lives of farmers and elephants. Brilliant!