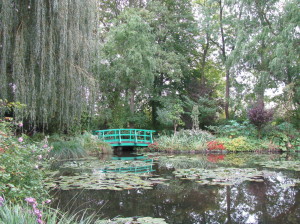 France. One of the most famous bridges ever painted.  The Japanese bridge (I haven't been able to figure out why it is considered Japanese) is in Monet's gardens in Giverny, 80 kilometers west of Paris. A sight to behold.
Claude Monet, one of the key painters in The Impressionist movement, was also a master gardener and horticulturist. His greatest passion became his gardens and he was quoted as saying his greatest masterpiece was also his gardens.
During his last 20 years (he died at 86), he painted a series of paintings depicting the bridge and the water lilies surrounding it.  His painting entitled Le bassin aux nympheas (a water lily) sold in 2008 for $80.4 million putting it in the top 20 highest priced paintings ever.
To stand on the bridge, under wisteria actually planted by Monet, and look out at the water lilies is an amazing experience. Here's to life and gardening!