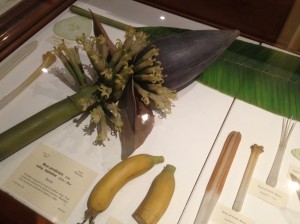 Boston. I don't really think of a banana as a flower, but it turns out it is a flower, an herb (the world's largest), a fruit and a berry. Well that is pretty cool. Here you see it recreated by the Blaschka's in their amazing Harvard glass collection. Everything you see is made of glass.
Every one knows bananas are really good for you, but I didn't know they are slightly radioactive. That's because of all the potassium which shows up as potassium 40 isotope.
I also didn't know they are the 4th largest world crop behind rice, wheat and maize with India being the largest producing country followed by Uganda. Really!
And the Cavendish, the main banana we eat, is currently being infected by an unstoppable disease and will probably disappear during our lifetime. Hopefully replaced by another one. Wow. Who would have thought the banana had so much going on. Good thing I just finished one for breakfast.
>
>
>