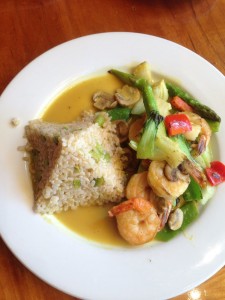 Boston. The restaurant advertised Cambodian/French cuisine. Never having eaten Cambodian, we figured why not. Plus it had a photo of a huge elephant beckoning us inside. How could we go wrong?
Cambodian food, it turns out is delicious and very healthy. One of the world's oldest cuisines, it has an emphasis on simplicity, freshness and seasonality. During the Khmer Rouge regime in the 1970's, the cuisine was almost wiped out and forgotten. How glad I am that it is making a come back!
The staple foods are rice and freshwater fish. During the rainy season, the whole country is inundated with monsoon rains turning the country into rice paddies. Almost every meal is served with rice. And for fruit, the durian (remember this fruit is banned in many places because of the smell) and mangosteen are the 2 most popular.
The food is much like Thai, but without the spiciness. There is a French influence since Cambodia was once a French colony.  Lunch yesterday was a shrimp stir fry with a coconut milk, lemongrass broth and brown rice. Yum! If you haven't tried Cambodian food, I highly recommend it. Especially if the restaurant features a welcoming elephant!