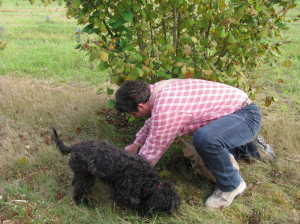 France. Given a choice of touring Dijon, France on our barge trip or going truffle hunting, the choice was obvious (at least to me). A truffle hunt with a Lagotto, a dog bred to hunt truffles, was in order. There are hundreds of truffle types, but we were going to hunt for black ones.
So what exactly is a truffle (and I am not talking about the chocolate kind although, in my opinion, they taste better)? Truffles are mushrooms growing underground, often around the base of a tree. They are usually harvested by pigs and dogs who can smell the fragrant fungi. Pigs are used less today (they are actually outlawed in Italy) as they damage the truffle habitat while digging and then they eat the truffle. Dogs don't seem to really like the truffle which works much better.
Known as one of the most expensive foods on the planet (currently selling for over $500 a pound which is still less than bird nest soup), I got to taste one that had just been dug up by our truffle dog shown in the photo. It tasted like dirt and dog slobber so I don't really get the big deal.
And on the cooking show "Chopped", any chef using truffle oil almost always loses. Come to find out, truffle oil rarely contains truffles but is olive oil with a synthetic chemical made from formaldehyde. Yum. While truffles are mainly grown in Italy and France, we are starting to see them cultivated in the US in Oregon and even Tenn. So if you get a chance to taste one or watch a truffle dog in action, go for it. An interesting experience if you like the taste of dirt!