Africa. I never expected to see penguins frolicking in the warm surf, in Africa of all places. But there they were at the beach at The Cape of Good Hope, the Southern tip of Africa.
The African Penguin, also known as the Black-Footed Penguin or the Jackass Penguin because of the donkey like bray they make, are endangered. Only about 55,000 remain, down from 4 million at the turn of the century. And without a halt in their decline, they are expected to be extinct within 10 years.
But they could be extinct now if not for the largest animal rescue ever in the world back in 2000. The MVP Treasure, an iron ore tanker, sank off the African coast and released 1300 tons of fuel oil. Almost half of the entire African penguin population was at risk of dying from oil exposure.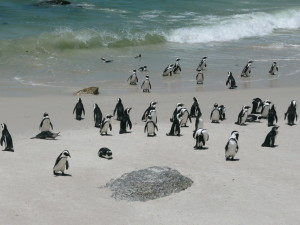 Volunteers came from all over the world, over 12,000 people, to help individually wash each bird. 40,000 birds were affected with over 90% saved. Read about the rescue in "The Great Penguin Rescue" or watch a Ted talk (www.ted.com/talks/dyan_denapoli) both by Dyan deNapoli, one of the rescuers. The message she delivers is inspiring. Each of us can make a difference, whether one penguin at a time or one moment at a time. What difference can I make today?