Africa. These beautiful elephants live in Botswana, a wonderful place I visited several years ago. But in Chad which is in Central Africa, just last month, 89 elephants were killed for their ivory. Thirty three were pregnant females and 15 were calves shot along side their Mom's. How very sad since there are only about 600 elephants left in Chad in the wild, down from 40,000 in the 80's.
And it occurred just as the CITES convention in Bangkok was winding up. Remember the resolution to ban the sale of domestic ivory in Thailand which passed at the beginning of the convention? Now the resolution needs to be implemented as one step to reduce the use of ivory.
So how do we protect our animals and our rangers? In Chad, not only are the elephants being killed, but the park rangers hired to protect them are being murdered. Well, some good news. Eight African nations are sending 1,000 troops to the region to protect the remaining elephants and try and stop the poachers.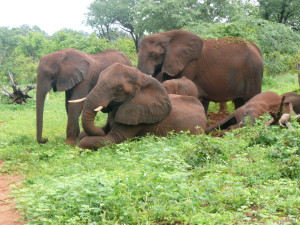 And a cool small way to help, I learned this morning. I sent an electronic post card to a ranger in Africa thanking him/her for their help and dedication in protecting our animals. Wow, I never thought about helping in such an amazing way. Just saying thank you to someone I have never met. You can do it thru the World Wildlife Fund website.  Baby steps, but steps!