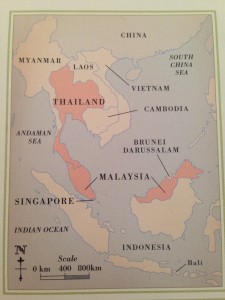 Malaysia. I am always interested in maps as I really don't have a clue where many countries are located in relationship to other countries. Take Malaysia. It is split in 2 by a wide expanse of the South China Sea. News to me.
So on our Eastern Oriental Express train ride we started in Singapore, traversed the entire country of Malaysia and then crossed over into Thailand, ending in Bangkok. Little did I know that we had only traveled through part of Malaysia and had not entered East Malaysia located on the Island of Borneo.
Hmmm. Where have I heard of Borneo? Of course, Borneo Pygmy elephants, only found on the North east tip of Borneo. And I have since learned Borneo is the 3rd largest Island in the world and includes not only part of Malaysia, but also Indonesia and Brunei. >
Just 3 months ago, in Jan 2013, 14 Pygmy elephants were found dead, believed to have been accidentally poisoned by palm oil farmers. A baby elephant survived and is now being raised by zookeepers. Only about 1200 pygmy elephants remain in the wild so let's hope Baby Joe, as the baby was nicknamed, continues to thrive.
>