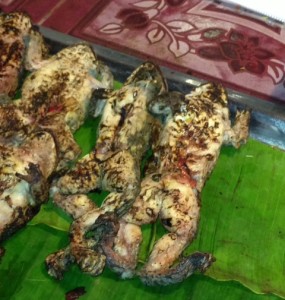 Thailand. Frogs for sale in a Northern Thailand market. I guess if I had grown up eating frogs instead of chicken, I wouldn't be so put off by the thought of eating them. But wait, that may be a really good thing. How so?
Frogs are amphibians (another cool word) living on both land and in the water, unlike reptiles that only live on land. And frogs are one of the most rapidly disappearing animal on Earth due to over harvesting and disease. Some reports indicate we could see up to one third of all amphibians go extinct in our lifetime, which would be the largest mass extinction since the dinosaur and have serious environmental impacts. Just think of all the Mosquitos they eat!
Some are taking action. France has banned the collection and sale of all native frogs due to a declining population. Unfortunately, at the same time, they increased their imports making them one of the largest frog importers along with Belgium and the US. Most frogs are imported from Indonesia including Thailand, severely putting the frog populations at risk in the export countries.
In the US, the famous San Francisco restaurant, Gary Danko, removed frog legs from their menu in 2010 (I have eaten there once and it was fabulous) and Wegman's, the grocery chain, removed them from all their stores due to the environmental impact. So next time you are offered a frog leg, think twice. It is the small choices we make every day that make a difference.