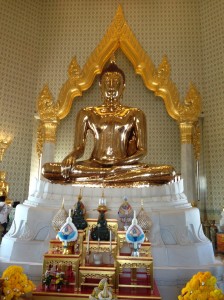 Thailand. Another interesting mystery. This is the largest gold Buddha in the world weighing over 5 tons and standing (well actually sitting) almost 10 feet tall in the Wat Traimit temple in downtown Bangkok.
The origins remain unclear but it is believed to have been made in the 13th century. No one is sure where the statue was cast which is part of the mystery.
At some point, again no one is sure, the statue was covered completely in plaster to hide it from thieves, possibly marauding Burmese. And then it was completely forgotten  for a couple of hundred years. Made of  over 175,000 ounces of gold it is worth $300 million at today's prices. No small amount to be just forgotten. Seriously how do you overlook a few hundred million dollars for over 200 years?
At any rate, in 1955, as a plain plaster Buddha, it was being moved to a new location and was dropped. Some of the plaster chipped off and it was discovered to be be made of solid gold underneath the stucco. So viola. One of the most stunning statues I have ever seen.