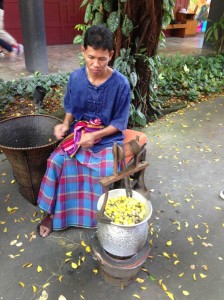 Having never heard of Jim Thompson until researching our trip to Thailand, he is now one of those people I would have loved to meet. He was an American, who single handedly, revitalized the Thai silk industry after World War II. He was also was an architect, retired army officer, a spy (that is the one I am really intrigued by), an antique collector and a silk merchant.
In the picture, we are at The Jim Thompson house, run by the Foundation established in his name, watching silk being spun from cocoons. The cocoons are boiled and a single thread at a time is pulled and put on a spool. It is then used to make beautiful silk cloth.  More on silk later, but the story of Jim is fascinating.
After retiring from what is now known as the CIA, he moved to Thailand and started the Thai Silk company. He convinced Vogue magazine to do an article on his silks and then achieved a great coup when his Thai silks were used in the movie production of The King and I in 1951.
He helped raise thousands of Thai's out of poverty by providing them with a living making silk. He built a beautiful house in Bangkok, filled with antiques he collected and entertained royalty. Then on Easter Day in 1967, he went for a walk in Malaysia while on holiday and was never seen again. Much speculation exists about a possible kidnapping by all sorts by shady characters or maybe even a tiger ate him. Oh my. But the mystery remains to this day. And the silks made by his company remain some of the best in the world.